Click on the link below and get puzzling!
After enjoying your free puzzle pdf, why not take out a subscription today and get your favourite puzzles delivered directly to your door every month.
Find out more
now on our great puzzle offers!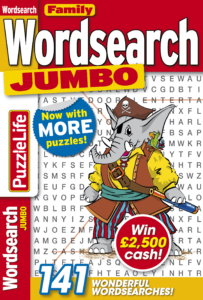 Family Wordsearch Jumbo lives up to its supersized name – it's a jumbo wordsearch magazine with an unbeatable selection of fun-to-solve puzzles and a £2,500 cash competition. There are seasonal wordsearches and more than 130 other puzzles grouped into categories such as travel, food and drink, TV and so on.