Click on the link below and get puzzling!
After enjoying your free puzzle pdf, why not take out a subscription today and get your favourite puzzles delivered directly to your door every month.
Find out more
now on our great puzzle offers!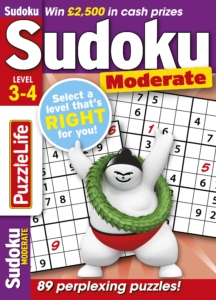 Our unique range of four sudoku titles are graded by difficulty – PuzzleLife Sudoku Moderate 3-4 contains easy-to-medium sudokus, which are slightly above beginner level but not too fiendish! There's also £2,500 up for grabs every month in this handy-sized mini-magazine, so don't miss out..